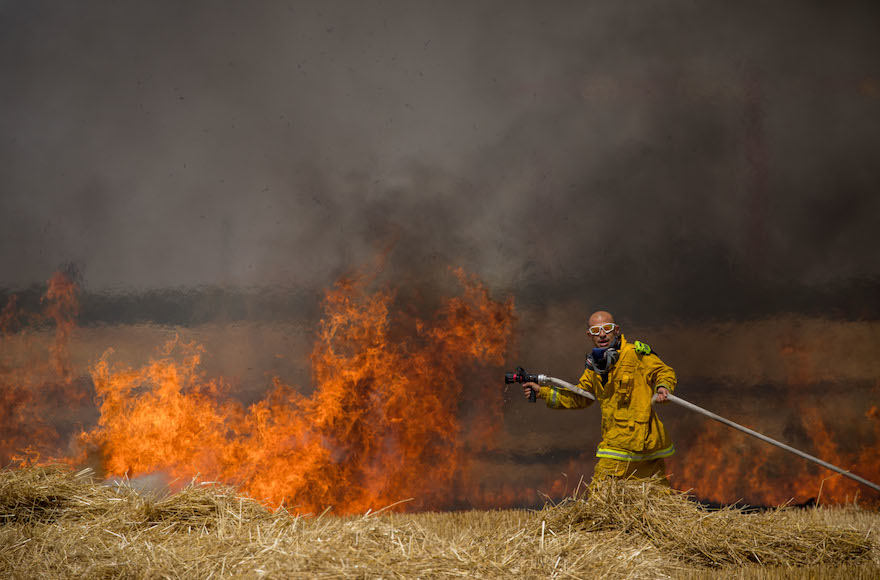 Israeli firefighters extinguish a fire in a wheat field caused from kites flown by Palestinian protesters, near the border with the Gaza Strip, May 30, 2018. (Yonatan Sindel/Flash90)
JERUSALEM (JTA) — Large fires broke out in kibbutz fields on the border with Gaza, ignited by an incendiary kite flown across the border by Gazan Palestinians.
The fires on Sunday come a day after a burning kite, or a balloon filled with chemicals dripped flames in the area, burning hundreds of acres of agricultural fields as well as part of a nature reserve next to Kibbutz Carmia.?Saturday's fires, which claimed more than 740 acres, was the worst since the new terror tactic took root about two months ago.
At least one-third of the nature preserve was destroyed, according to reports, and required several teams of firefighters to put out. The fire fighters on Saturday battled three large blazes and several small ones throughout the area.
Sunday's fires destroyed agricultural fields in three kibbutzim located near the Gaza Strip: Nir Am, Or Haner and Be'eri. A major highway in the area also was closed as area residents worked in tandem with firefighters to put out the blazes. Four planes dropping fire retardants were required to assist in putting out the flames.
Damages to agriculture from fires set by the incendiary kites since the protests started in March are estimated at $1.4 million, ...
?