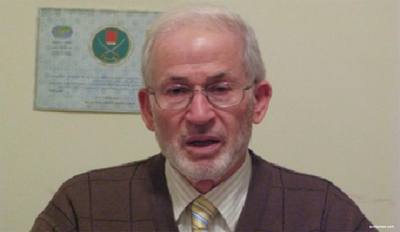 Among the lesser known, yet most influential leaders of the Muslim Brotherhood organization is the Egyptian-born British national Ahmed Ibrahim Munir Mustafa. Known simply as Ibrahim Munir, he is the global Brotherhood's secretary general and interim supreme guide.
The Brotherhood faces a great succession dilemma with many of its Egyptian leadership jailed and facing trials. A controversial old Islamic jurisprudence fatwa states that captured men or prisoners of wars cannot lead their nation or groups. Accordingly, incumbent Supreme Guide Mohamed Badie cannot lead the group while he is in an Egyptian prison.
Several names were mentioned as a possible new supreme guide, among them Mahmoud Ezzat, a leading Brotherhood member since the 1960s, who is believed to be in hiding in Gaza and is wanted by Egyptian authorities for allegedly orchestrating the violence taking place in Egypt. But Ezzat announced in 2016 that he did not want the title and recommended Ibrahim Munir.
But group members and leaders in Egypt question the 80-year-old Munir's leadership abilities as they fight against the Egyptian state and wish to substitute him with a wartime general guide. Younger members who followed the late Brotherhood leader Mohamed Kamal indicated their desire for a more vicious supreme guide. While the Muslim Brotherhood leadership tried to keep the news of the succession war a secret, the divisions and resignations have rocked the group and shattered any image of unity.
The double messages
Among his Brotherhood duties, Ibrahim Munir supervises the content of IkwhanWeb, the group's English-language website, and its weekly journal Risalat al-Ikhwan. English-language statements tend to be much more sanitized and tolerant than what the Brotherhood tells its Arabic-speaking audience.
Munir followed the taqqiya principal – a precautionary concealment or denial of religious belief and practice in the face of persecution – in all his English language communications with the media and United Kingdom politicians. The Brotherhood is a Sunni movement with a Salafist tradition, while taqqiya remains a practice found in the Shiite denomination of Islam.
For example, Munir told a British Parliament committee that sharia laws tolerate apostates, but that statement contradicts the beliefs and teachings of Brotherhood founder Hassan al-Banna. It also avoided answering questions about the Brotherhood's positions toward minorities such as homosexuals.
An example of the Brotherhood's dual messaging came in September 2012 when a group of Islamists led by the Muslim Brotherhood stormed the American Embassy to protest what was dubbed as an anti-Islamic movie. In Arabic, they called upon all "Egyptians to rise to defend the Prophet" in a million-man march directed towards U.S. Embassy in Cairo. Munir's London-based IkhwanWeb, on the other hand, tweeted a statement from deputy head Khairat Al Shater: "relieved none of @USembassycairo staff were harmed," while expressing hopes that Egyptian-American relations could weather the storm. However, the U.S. Embassy in Cairo twitter account mocked the tweet in English: "Thanks, by the way, have you checked your own Arabic feeds? I hope you know we read those too."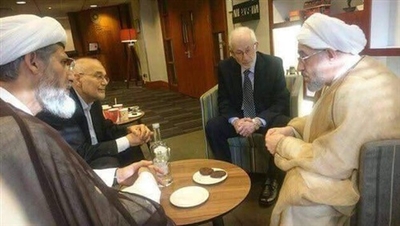 Ibrahim Munir meets in London last July with Ayatollah Khamenei's personal representative Mohsen Araki.

Despite their following different religious denominations the Muslim Brotherhood and Iran have had relations for decades, as many Brotherhood leaders frequently visit Iran as guests of the regime. The first meeting between Brotherhood founder Hassan al-Banna and Ayatollah Khomeini, the supreme leader of the Islamic revolution took place in 1945 – more than three decades before the 1979 Islamic revolution. Moreover, the only time an Iranian president visited Egypt after the revolution came during Mohamed Morsi's ill-fated one-year reign in 2013 when Mahmoud Ahmedinejad traveled to Egypt. Munir, along with other Brotherhood officials, have maintained strong ties with Iranian leaders. During a July conference on Islamophobia, Munir was among Brotherhood members to meet in London with Ayatollah Ali Khamenei's personal representative, Mohsen Araki....