Yesterday Ibrahim Hamed who orchestrated suicide bombings in which more than 45 Israelis were murdered, was sentenced by Israel to 54 life sentences in prison.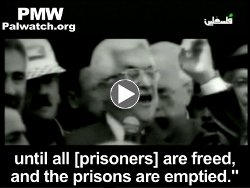 The Palestinian Authority views terrorists like Hamed who have orchestrated suicide bombings as heroes. Recently Palestinian Media Watch reported that PA TV twice broadcast a video dedicated to Hamed and other terrorists serving multiple life sentences for murders, calling them "brave prisoners" and flashing their pictures on the screen.

Hamed, who plannedand organized numerous suicide bombings including the ones at Hebrew University (9 killed), Cafe Moment (12 killed), and Cafe Hillel (7 killed), was among the terrorists specifically mentioned by PA Chairman Mahmoud Abbas, when he publicly wished for their release. Speaking at a PA ceremony celebrating the release of Palestinian terrorist prisoners by Israel in exchange for Hamas-captured soldier Gilad Shalit, Abbas said:
"We now see some of the most prominent among them [released] and the rest, Allah willing, will be [freed] soon, very soon. Allah willing, soon we will see here brother Marwan Barghouti, brother Ahmad Sa'adat, Ibrahim Hamed, and Abbas Al-Sayid."